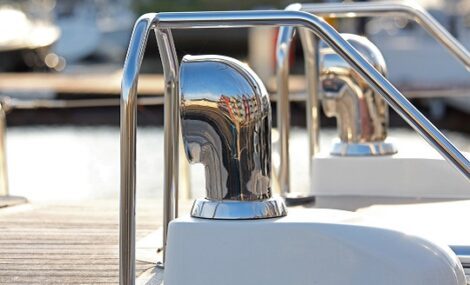 Abrasive tools for marine industries are used for surface finishes, from boat manufacturing to polishing stainless steel details.
Stainless steel surface finishing
More specifically on stainless steel surfaces, applications include:
Grinding, deburring. Aluminum oxide, Zirconia, and Ceramic abrasives.
Finishing, polishing. Trizact™, non-woven, felter, cotton, sisal, and sisal-cotton. Finishing and polishing have to fulfill the highest expectations in the nautical industry.
Cta Calflex abrasive tools 
Cta Calflex offers a complete range of abrasive products for all stainless steel surface finishing, including:
Trizact™ tools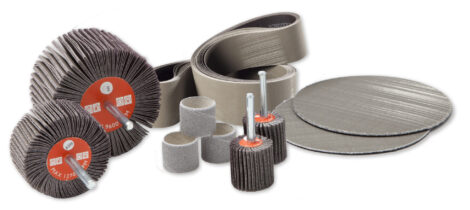 Trizact™ flap wheels with spindle, flap wheels with hole, belts, spiralbands, discs for high precision finishing and polishing. As known, Trizact™ has a longer life than traditional abrasives because it is made with a special abrasive with a pyramidal structure. It allows a constant finishing without imperfections until the complete wear of the tool, which will last longer. This abrasive structure allows better results too, in particular in polishing operations where roughness and imperfections must be minimal or absent, as required in the nautical industry. For this reason, Cta Calflex converts Trizact™ to various tools.
Flap wheels, fiber discs, and abrasive spiral bands
Cloth, non-woven, or combi spindle mounted flap wheels

. Over 1.300 combinations of sizes, abrasive, grit, and spindle. M6 spindle-mounted flap wheels are also available. 
Flap wheels with holes. Cloth (aluminum oxide and zirconia), non-woven, combi, cotton, and sisal/cotton.

From the most used 100×100 and 100×50 to non-standard sizes on customer request. Scotch-Brite™ flap wheels are also available.
| | |
| --- | --- |
| | Cubitron™ discs with ceramic abrasive and stiff fiber backing for weld removal. |
| | |
| --- | --- |
| | Zirconia spiral bands are suitable for machining that requires increased stock removal. |
Abrasive belts
| | |
| --- | --- |
| | Aluminum oxide abrasive cloth belts. Thanks to their abrasive performance, they are used in grinding applications and quick removal of welds, paint, rust, and corrosion, even in difficult areas. For high heat resistance, these belts are also available with resin glue and additive. |
| | |
| --- | --- |
| | Zirconia and ceramic abrasive cloth belts for more aggressive grinding operations and to remove rust and encrustations for example on metal propellers, rudders, and anchors. |
| | |
| --- | --- |
| | Non-woven belts (Fiben LS, Surface Conditioning™, and Cutting Polishing™) for satin finishing. |
Other abrasive tools
Our range also includes: cutting and grinding discs, cotton, sisal, and felter discs, polishing compounds, machines (grinders, belts tools, satin machines, etc.), and accessories.
Why should you choose Cta Calflex?
Advantages of using a single abrasive tools supplier.
Quality of Made in Italy.
A UNI EN ISO 9001:2015 certified supplier.
High-performance abrasives.
---