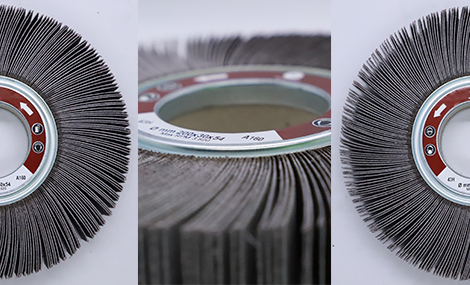 Do you know that Cta Calflex produces Trizact™ flap wheels with hole?
How many times, while working on a surface, you would have opted for an abrasive that could simultaneously combine a uniform finishing and a longer life!
Trizact™ has a longer life than traditional abrasives, because it is made with a special abrasive with a pyramidal structure. The abrasive granules are identical pyramids and they are positioned evenly, unlike traditional abrasives, where the distribution of the mineral is random and irregular. Trizact™ allows a constant finishing without imperfections until the complete wear of the tool, which will consequently last longer.
This abrasive structure allows better results too, in particular in polishing operations where roughness and imperfections must be minimal or absent. For this reason, in addition to other various tools, we have chosen to manufacture Trizact™ flap wheels with hole as well. We produce them with all the quality of Made in Italy, a defining feature of our production process.
The dimensions of our wheels range from 100×50, 100×100 up to 165×30, 165×50, 200×30, 200×50.
The range of grits is wide: A160, A100, A80, A65, A45, A30, A16, A6 (for correspondence with FEPA grits please refer to the table below).

Don't forget that our Trizact™ product range also includes flap wheels with spindle, belts, discs and spiral bands.
Thanks to this huge assortment of flexible tools, we have been able to offer our customers the opportunity to use Trizact™ in various ways, depending on the working needs and the machine used by the operator, making them very popular among the customers themselves.
---