45 years of us: this year we celebrate an important milestone in our business!
The 45th wedding anniversary is usually called a "Sapphire wedding". Sapphire is an abrasive mineral that immediately makes us think of our bond with Aluminum Oxide, Zirconium, Ceramic, and other materials.
In a nutshell, a long union during which we have been enhancing the qualities of abrasives by transforming them into thousands of tools combinations in order to meet any requirement for surface machining.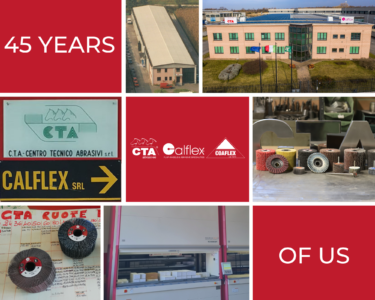 45 years of growth, changes, improvements, enthusiasm, and also strength and determination in facing the most critical moments due to both Italian and international scenarios that have overwhelmed all industrial realities.
A growth that has led us to become a production reality capable of embracing the abrasive at 360°.
The merger of several companies (Cta – Calflex – Abrasiv – Coaflex) to combine each know-how into a single structure.
The change of location for more space and better production and logistics management.
Investments in new machines and implementation of existing ones.
UNI EN ISO 9001: 2015 Certification for Research&Development, Manufacturing, and Selling of abrasive tools.
The transition from the first generation to the second generation, from the founders to their children, who entered the world of abrasives at an early age and who now carry on the traditional values of the company by combining them with technological and managerial innovations.
Last but not least, is the investment in our vertical warehouse for a more automated management of logistics and storage phases.
These are just some of our milestones in these 45 years that we love to remember with that pinch of satisfaction and pride.
What is the secret of these 45 years of growth? Our usuals: the passion for abrasives and the desire to always do better for our customers.
---